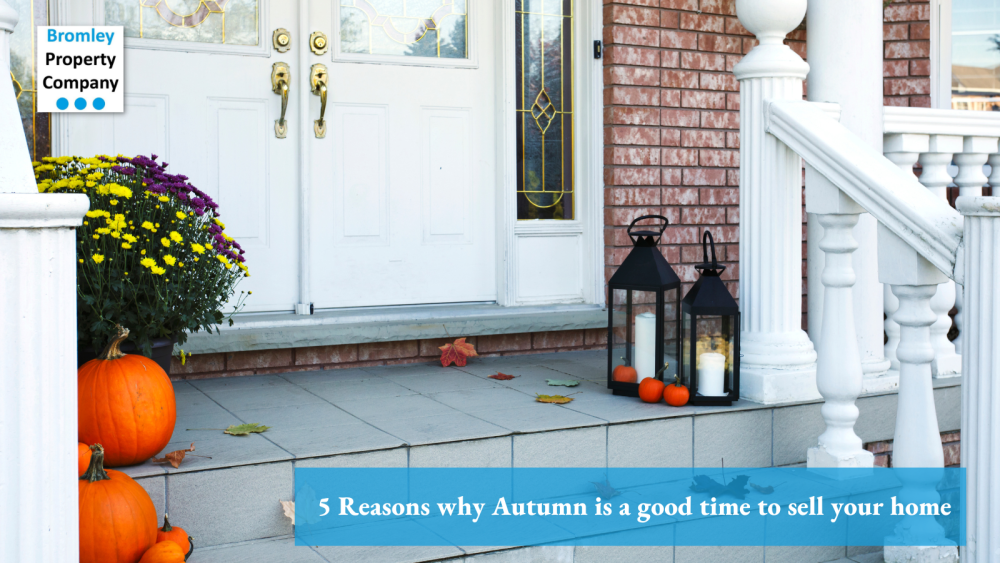 As the leaves start to turn and a cozy chill fills the air, homeowners might be tempted to hold off on selling their properties until the spring market comes around. However, autumn presents a unique and often overlooked opportunity for selling your home.
Over on the Bromley Property Company blog today, we share five compelling reasons why autumn is ideal for selling your home, and might just be the perfect season to put your house on the market:
1. Captivating Kerb Appeal
Autumn's vibrant foliage and warm colour palette can work wonders for your home's kerb appeal. A well-maintained front garden with pumpkins, planting, and a tidy walkway can create a welcoming atmosphere that appeals to potential buyers. The picturesque surroundings can make your home feel inviting and memorable, increasing its chances of leaving a lasting impression.
2. Serious Buyers, Less Competition
While spring and summer often bring about a surge in the property market, they also lead to increased competition among sellers. In the autumn, however, the pool of buyers tend to be motivated and serious. This can result in quicker sales and potentially more attractive offers, as buyers during this season are often looking to complete on a property before Christmas.
3. Favourable Timing
Autumn offers a sweet spot between the hectic summer holiday season and the busy Christmas season. Potential buyers are likely to have more time to attend showings and make thoughtful decisions. Additionally, the mild weather can make touring homes more enjoyable, without the extreme temperatures of summer or the cold of winter.
4. Highlight Home Comfort
Autumn provides an excellent opportunity to showcase the cozy and comfortable aspects of your home. Staging with warm blankets, plush pillows, and seasonal décor can help potential buyers envision themselves enjoying the upcoming holidays and colder months in their new space. Highlight features like fireplaces, hot tubs, and outdoor entertainment areas that shine in the autumn.
5. Year-End Financial Motivation
Buyers looking to settle in before the year's end may have specific financial motivations. These can include tax benefits, getting settled before the new year begins, or even fulfilling a resolution to become a homeowner. By tapping into these motivations, you can create a sense of urgency that encourages buyers to make a decision sooner rather than later.
In conclusion, autumn brings with it a unique set of advantages for homeowners looking to sell their properties. With captivating kerb appeal, serious buyers, favourable timing, the chance to highlight home comfort, and year-end financial motivations, it's clear that the autumn season holds immense potential in the property market.
So, why wait until spring? Embrace the autumn market and make the most of this opportune season to sell your home!
Like this blog on reasons why Autumn is ideal for selling your home? Read more of our property tips and advice, over on our blog