When it comes to families looking to purchase a property with us, some of the most popular questions asked are around Bromley schools catchments, both for primary and secondary school.
We know good schools are rightly high on the priority lists for buyers, and we're lucky that here in Bromley there are decent schools aplenty, with many people consistently relocating here from inner London and beyond so their children can access them.
We've published below the list primary and secondary admissions distances for the 2021 intake, as per the Bromley.gov.uk website, where you can find the full guide for applying for a school place within the borough. We will be updating this later this year with details of the 2022 intake.
These give you an idea of the admissions distances over the past few years. However, what's important to remember is that the distances given here aren't cut-and-dried, and these are the official admissions distances offered at the 'first round'. Once initial places have been accepted (and there can be some movement due to private/grammar school uptake, families relocating etc), the 'second round' commences, and offers are made to children next on the list.
For example, we know of one popular secondary school that officially offered to children up to 1.1 miles from the school as the crow flies as per the first round, but come the second round children who lived in roads slightly further away gained a place. It's not sometimes easy gambling and holding your nerve when it comes to perhaps choosing a property that is 'borderline' catchment, but providing you live a realistic distance away the chances are your child will still get a place at your preferred school.
It's always worth doing your research and asking around re catchments before counting on or discounting a property due to perceived admissions distance. Of course, sibling intake and school year birth rate will play a big part in admissions criteria, but you can gain an idea of admissions distance by looking at the tables below. Here at Bromley Property Company we know the area like the back of our hands, so whilst we certainly can't guarantee a property is in your preferred catchment in any given year, we can advise as to whether or not it's a realistic prospect.
Bromley Schools Catchments 2021 – Primary




Bromley Schools Catchments 2021 – Secondary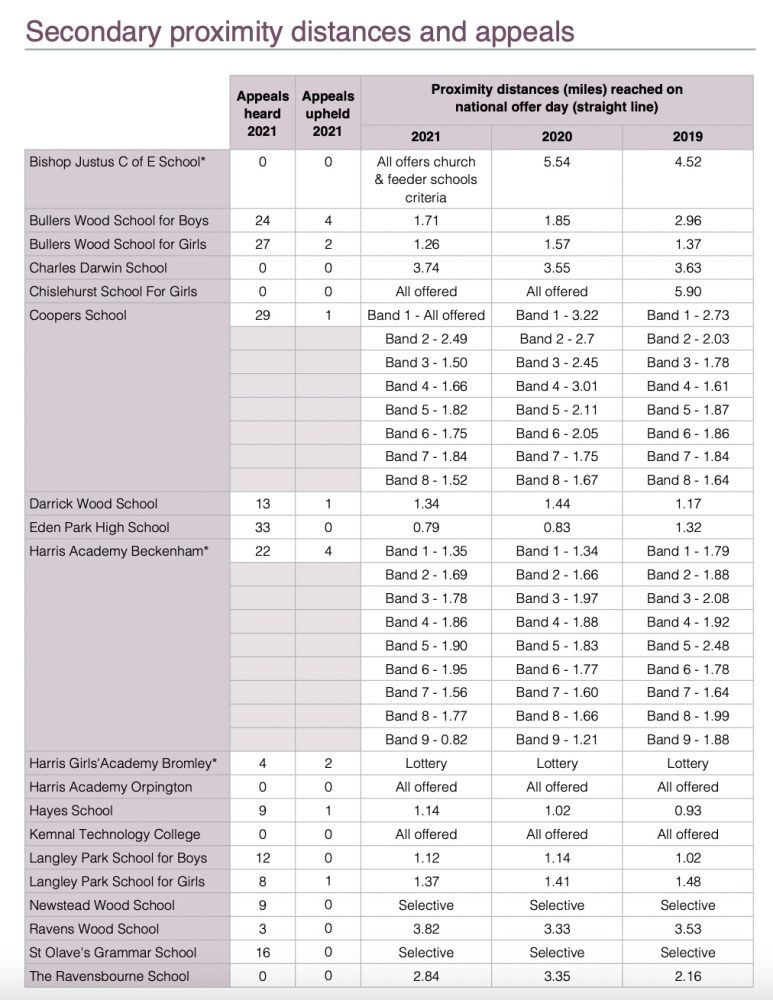 We hope these are helpful for prospective buyers, and we'll look to update them each year when the latest information is released.
If you'd like any advice around relocating to and buying a property in the Bromley area, please contact us today.