With over 20 years roofing and maintenance experience, McColloch's Roofing of West Wickham are a family-run business and experts in all things roofing. Offering a fully comprehensive roofing and building maintenance service from full recovers to repairs, flat roofs, guttering and UPVC Facia and cladding work, they also carry out external painting and general building maintenance.
We chat to owner, Tim McColloch, about his business, tips for keeping your roof in tip top condition, and his favourite things to do in the Bromley area!
Hi Tim, tell us a bit about your background, and how you came to set up McColloch Roofing?
I have lived in Bromley all my life. I grew up with both my parents owning small businesses which encouraged me to want my own business one day. I started my working life in sales and management, and then moved to a family-run roofing company who I worked with for twelve years. I started to get more of my own work, and decided it was the right time to start my own business which was formed in 2015.
Describe your typical day if you can? What else is involved apart from fitting tiles on roofs? 
I start work at 6.30am reviewing emails and planning the week ahead. I meet my teams on site and have brief meetings with our operations manager and team leaders. As the business has grown I have moved away from hands-on site work and now concentrate on managing my business, meeting clients, pricing and arranging the schedule of works.
Do you have any tips for our readers for when it comes to maintaining and looking after a roof?
Gutters are an important part of the roof to prevent damage to the property. You should make sure they are regularly cleaned and the joints are watertight. Most pitched roofs need fairly little maintenance depending on age but it is good to get checked over by a professional periodically.
How often should you get your roof checked?
Depending on the age a flat roof should be checked every one to two years and a pitched roof every 3-5 years.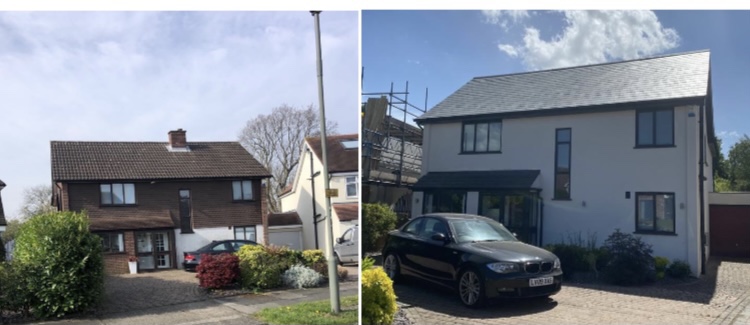 What's the biggest/ most unusual/ favourite roofing project you've worked on? 
The one that I think I enjoyed the most was in Chislehurst where we completely transformed the whole look of a house with a new slate roof, rendering of the property and sprayed windows to match the new look.
What's your favourite thing to do/ place to visit in the Bromley area?
We love eating out and particularly enjoy Harper's restaurant in West Wickham. As a busy small business owner I would like to explore more of what Bromley has to offer.
Thanks for speaking with us Tim!
If you'd like to read more posts like this, then head on over to the blog section of our website. If you'd like a no obligation valuation on your property, then contact one of our highly experienced team today.